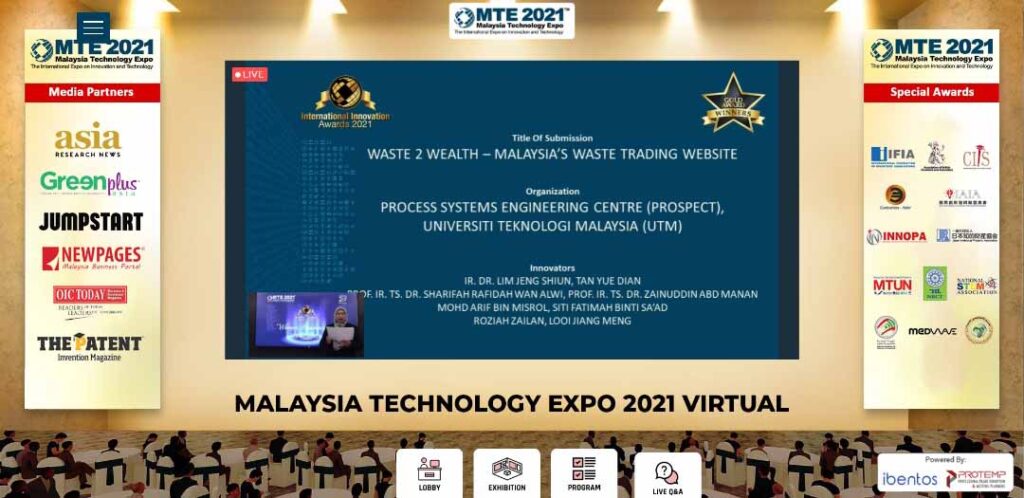 UTM PROSPECT Energy Efficiency and Waste to Wealth inventions bag gold awards at Malaysia Technology Exhibition (MTE) 2021
About the Gold Award Winners Of SEDAR And W2W
UTM-Process Systems Engineering Centre (UTM-PROSPECT) software products SEDAR (Smart Energy Demand Analysis and Reduction) and W2W (Waste-to-Wealth Trading Platform) were announced as gold award winners at the Malaysia Technology Exhibition (MTE) today.
The rigorous MTE screening and judging processes are testimonies of SEDAR and W2W as best-in-class and globally unique 4IR-driven software inventions that promote sustainable consumption and production and contribute toward circular economy.  Developed under UTM-PROSPECT R&D and commercialisation programs, SEDAR and W2W have been  licensed to UTM-registered spinoff company Optimal Systems Engineering Sdn Bhd (OPTIMISE).
Head of the SEDAR Project, Professor Ir Ts Dr Sharifah Rafidah Wan Alwi, who was recently named as one of eight Asia's leading women scientists said that, SEDAR is the first humanised IoT-based  smart system that integrates building management, with autonomous end users' actions enabled by sensors and controllers of building electrical appliances. Behaviour-influencing energy saving features in SEDAR such as competition and gamification, notification, rewards, incentives and penalty are vital in driving users to conserve energy. SEDAR also provides data analytics on user consumption patterns for organisations to analyse and design effective energy management and improvement programs.
Ir Dr Lim Jeng Shiun who is the W2W co-inventor and a young prolific UTM researcher,  professional engineer and educator said that, Waste 2 Wealth (W2W) website is Malaysia's first digital advertising platform to allow industrial players, researchers, government organisations and authorities to promote and trade waste, resources, services, and green innovations online. W2W targets to help industries in finding suitable buyers and potential suppliers for reusable waste as a cheaper material substitute through the convenient online advertising agent to facilitate waste exchange practice.  Ir Dr Lim envisioned for W2W to be an essential platform to catalyse regional and global transition toward circular economy.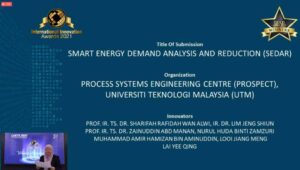 This article is published on March 28, 2021 by Optimal Systems Engineering