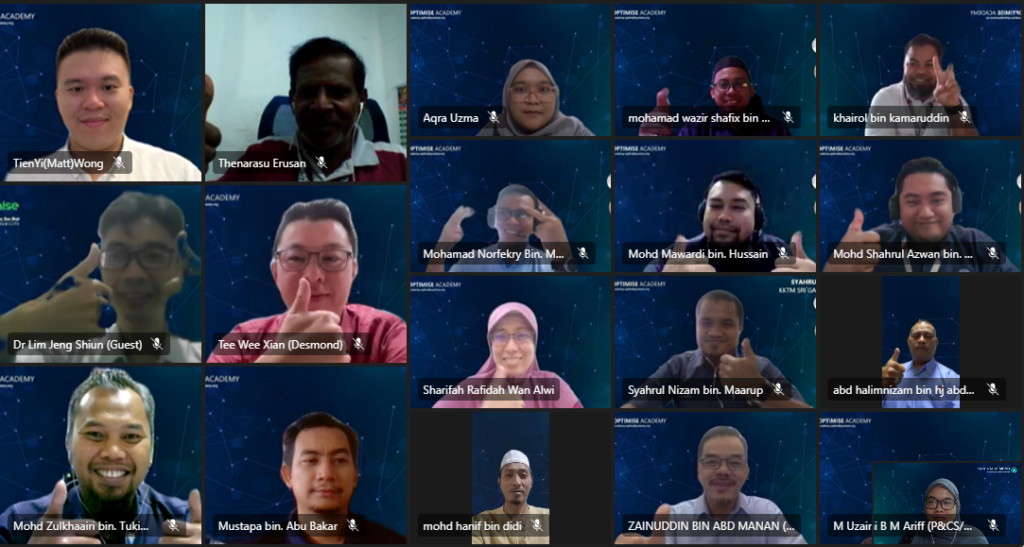 Engaging Professionals to Drive EnMS Implementation
We had the privilege to engage energy professionals from across the country in a virtual OPTIMISE Energy Management Systems (EnMS-ISO50001) workshop this week.  Those with experience coaching management systems standards (MS) including EnMS may agree that sustaining a lively MS workshop can be most challenging due to the highly descriptive nature of management systems standards.  Imagine one that is delivered online. 
So, to avoid "ploughing" through one MS clause after another, we took the liberty to design and deliver the EnMS sessions and clauses through the lens of our real-life experiences. From making a compelling case, planning and aligning the EnMS to suit our unique environment, providing support and resources to monitoring, tracking and performance review – we closely relate the EnMS clauses with our experiments, challenges, failures, innovations and success in driving real-life EnMS implementation at our own backyard – the Universiti Teknologi Malaysia.  It is quite encouraging to know that the energy professionals find the sessions engaging and beneficial.
Ts Mohd Mawardi bin Hussain, a Vocational Training Officer from KKTM Sri Gading shared that "This course is tremendously helpful for me to implement the energy management system in my organisation. The syllabus is well explained and full of examples to follow."
His thoughts were echoed by Mohd Uzaini Mohd Ariff, a Sustainable Development Manager from PETRONAS who found the training useful with "real life examples".
Wong Tien Yi, a Technical Sales executive from Astronergy New Energy Technology (Singapore) PTE LTD, appreciated the importance of data analysis and performance tracking in energy management.  He said "This training provided up-to-date information and know-how; It is a fruitful sharing delivered by a team of high-level professionals. I shall continue participating with this organisation to gain more in the lovely field."
 In the closing session, I took the liberty to deliver the concluding clause sprinkled with a Michael "Air" Jordan quote, and another equally famous one by Robert Allen.
"There is no failure, just feedback"  is central to the growth mindset of celebrating continual improvement that cuts across management systems.  It is the one that has defined our energy management initiatives at UTM since the 1990s .  We are pleased to share that UTM has been recently ranked 1st globally among higher education institutions under UN-SDG-7 (Clean and Affordable Energy) by the Times Higher Education.  This is the result of decades of efforts in building our Sustainable and Resilient Energy Management Program (SREMP).
OPTIMISE applauds the participants for their dedication and congratulates them on taking an important step towards driving positive change within their organisations. At OPTIMISE, we remain committed to assisting and empowering organisations on their energy management journey through partnership for the sustainable development goals.
OPTMISE is pleased to invite registration for our upcoming open and in-house workshops on energy, GHG accounting and management, resource, and environmental sustainability available at our website.  For further inquiries, please do not hesitate to contact us at [email protected] or call us at +607-570 4842.
This article is published on July 14, 2023 by Optimal System Engineering