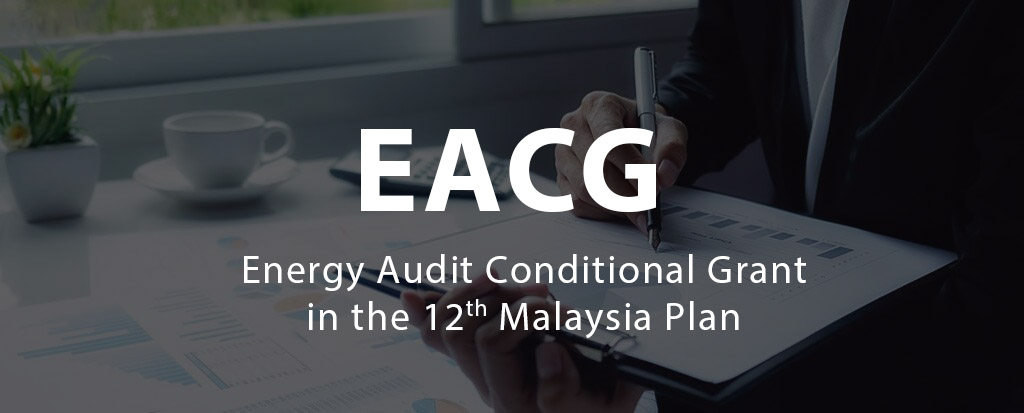 Energy Audit Conditional Grant Now Open for Application!
Good news to all industrial and commercial facilities!
The Malaysia government has approved for the Energy Audit Conditional Grant (EACG) to be continued for the 12th Malaysia Plan. The EACG is now open for application for both commercial and industry buildings in Malaysia for year 2021 until 2025.
What is Energy Audit Conditional Grant (EACG)?
The Energy Audit Conditional Grant is a grant provided by the government for companies based in Malaysia to conduct energy audit within their premises by appointing an Energy Service Company (ESCO).  This phase of EACG covers both electrical and thermal energy audits.  The grant limit, according to sector is in the range of:
Commercial: RM 50,000.00 – RM 55,000.00
Industrial: RM 85,000.00 – RM 90,000.00
EACG recipients will need to invest on implementing the recommended energy saving measures (ESM) equivalent or higher than the amount of grant received within 3 years. For the year 2021, only 25 commercial buildings and 46 industries premises is allocated. Funding is typically limited. So, do apply soon before the grant is fully allocated.
What is an Energy Audit?
An energy audit is a systematic assessment of the baseline energy consumption efficiency within a facility, followed by identification of energy efficiency improvement opportunities and cost-saving measures.  Read more
Who can apply for the grant?
Any industrial or commercial buildings which consumes or generate electrical energy amounting to equal or more than 3,000,000 kWh at one metering point for 6 consecutive months.  These are also the "designated companies" that fall under the Efficient Management of Electrical Energy Regulations (EMEER) 2008 (excluding Sarawak).  These companies are required to appoint a Registered Electrical Energy Manager (REEM) in their company (this again excludes Sarawak).  Companies based in Sarawak can apply for EACG by providing their energy bills as the proof of consumption/generation.
Where can I apply for the grant?
Sustainable Energy Development Authority (SEDA Malaysia) is the implementing agency for both commercial and industrial building for the RMK12 EACG, and Suruhanjaya Tenaga is the coordinator. 
The grant can be applied from the following website: EACG Application
What are the conditions to apply for the grant?
Below are some key conditions for the grants:
Company must fall under EMEER and has a REEM (exclude Sarawak).
Company must appoint an Energy Service Company (ESCO) registered under Suruhanjaya Tenaga website or Electrical Inspectorate Unit (for Sarawak only).
The Energy Audit must be completed within two months starting from the date of contract signing.
Companies can commit to implement the energy saving measures (ESMs) within 3 years by using their own internal budget, or by applying for external funding from loan or through Energy Performance Contracting (EPC). The amount of investment for implementing the energy conservation measures must be equal or more than the amount of grant funding.
There is a minimum energy saving percentage that needs to be achieved yearly for commercial and industrial buildings. The total minimum energy saving is 20% for commercial and 10% for industries.
Companies that have achieved energy cost savings that are equal to or exceed the allocated grant amount are also considered to have fulfilled the requirement.
No-cost ESMs must be implemented immediately. Read more about different types of Energy Saving Measures (ESMs): Click Here
All progress of ESMs must be reported to SEDA and Energy Management Information System (EMIS) provided by the Energy Commission every 6 months.
Each company can only apply for one EACG.
The installation must install a sub-metering for energy consumption monitoring purpose within the contract period (3 years) after the energy audit is completely done.
Where can I find ESCO company?
The list of Energy Service Companies (ESCO) registered under Suruhanjaya Tenaga can be obtained from the following website: ESCO List
Optimal Systems Engineering Sdn Bhd is one of the Energy Service Companies (ESCO) registered under Suruhanjaya Tenaga. For more information on how to apply and benefit from EACG, please contact us at: Contact Us
During the previous batch of EACG implementation, members of OPTIMISE have been appointed by SEDA to share our experience in driving the successful implementation of sustainable energy management program at the premises of University Teknologi Malaysia in Skudai Johor. During the time, we had managed to outreach more than 500 companies through several sharing sessions organsied by SEDA throughout Malaysia.
Contact Us here to further discuss on how we can help your business to utilise this EACG grant today.
This article is published on March 5, 2021 by Optimal Systems Engineering