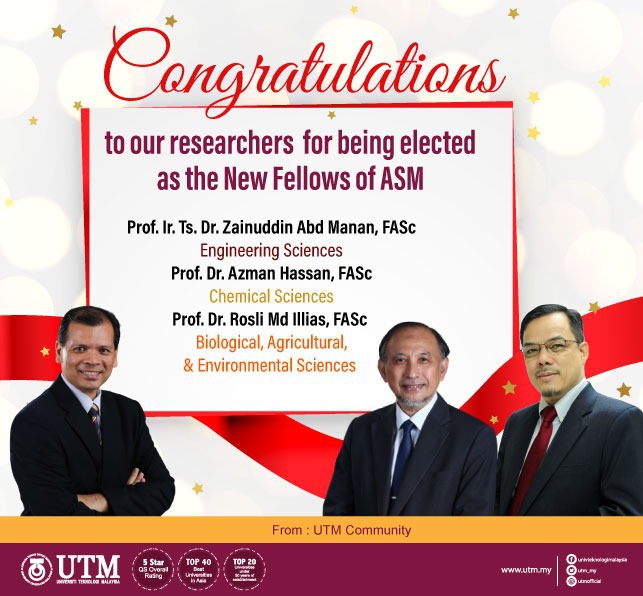 Prof Ir Dr Zainuddin Abdul Manan appointed as Fellow for Academy of Science Malaysia
About The ASM's New Fellows for This Year 
The Academy of Science Malaysia (ASM) recently appointed their new fellow of ASM for this year. ASM appointed the eminent scientists in Malaysia who have made outstanding contributions to science, engineering and technology, both nationally and internationally. New ASM fellows were appointed with the abbreviation FASc after their name.
Prof Ir. Ts. Dr Zainuddin Abd Manan was selected as one of the New Fellows of ASM from University Teknologi Malaysia in the field of Engineering Science from the 50 individuals who were appointed from among the country's eminent scientists, engineers and technologists. The professor is someone who has made a significant contribution and outstanding achievements in his career. For his contribution, the Professor was appointed as a New Fellow of ASM. This award is given as a high appreciation for the best scientific minds from the Government of Malaysia.
The ASM Fellowship consists of distinguished scientists, engineers, technologists and social scientists that have made exceptional contributions in their fields. Individuals with merit, possessing high integrity demonstrating utmost decorum at all times with essential characteristics of an ambassador of ASM at the national and international level are nominated each year. Fellowship is awarded based on a stringent selection process in eight disciplines.
It's a recognition for an eminent scientist in Malaysia, which is recognised by ASM. The award is even higher than Top Research Scientist Malaysia. Quite hard and stringent the application process. This year from UTM, only 3 professors were selected. For their contributions in the field of careers, this is the best moment to the researchers for being elected as New Fellow of ASM. Besides, being an eminent scientist, they have to show contribution to society. These award emphasized outstanding achievements in their respective careers.
This article is published on April 25, 2021 by Optimal Systems Engineering