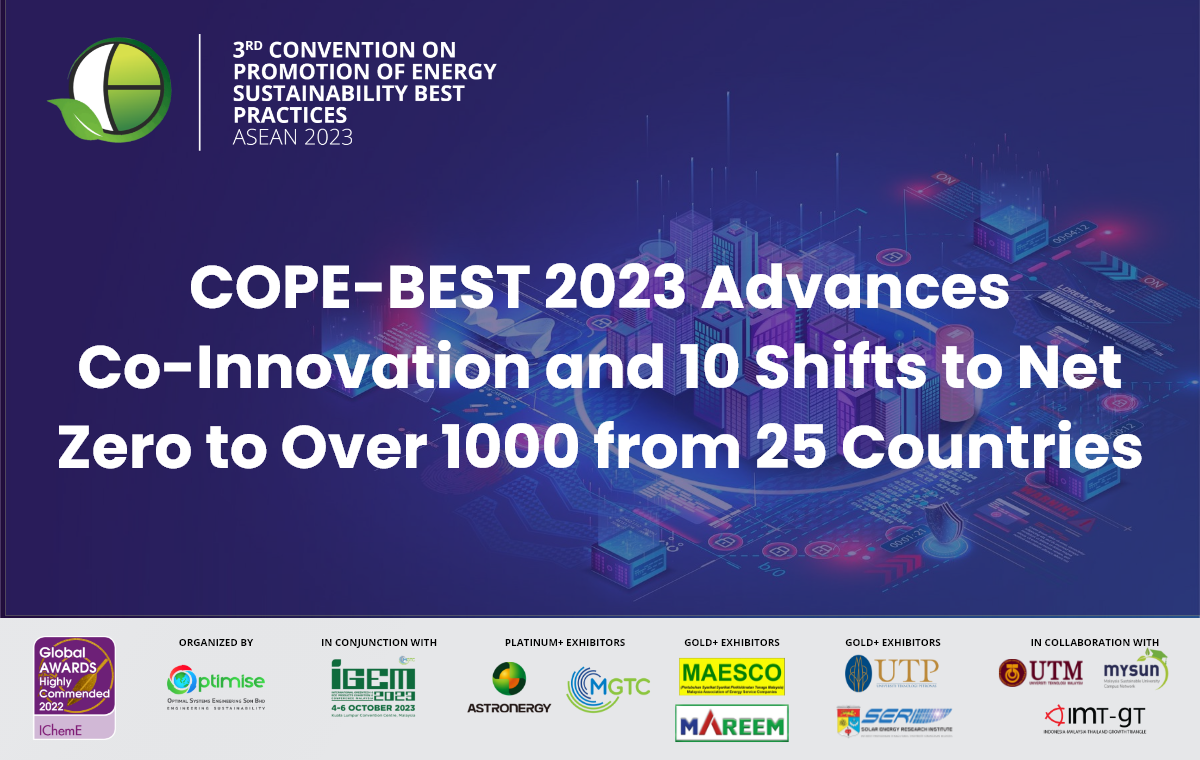 COPE-BEST 2023 Advances Co-Innovation and 10 Shifts to Net Zero to Over 1000 from 25 Countries
Building resilience through co-innovation
Climate crises are not only threatening the planet, but also people and profit. It impacts society, businesses and economies. 
According to studies published by the Swiss Re Institute, climate-related disasters are forecasted to slash over 10 percent off global economic output by 2050, or a potential loss of up to $20 trillion in annual global economic output compared to a scenario without climate change.
"Climate threats underscores the urgency for businesses to embrace co-innovation to build resilience in order to not just survive, but thrive", says the Vice Chancellor of Universiti Teknologi Malaysia (UTM), Professor Datuk Ir Ts Dr Ahmad Fauzi Ismail at the 2nd October opening of the virtual Convention on Promotion of Energy Sustainability Best Practices, or COPE-BEST 2023.
COPE-BEST Call-to-action
"The Global Innovation 1000 study revealed that the world's most resilient and top-performing companies achieved their success by making substantial and strategic investments in R&D and innovation capacity to maintain a competitive edge", says Professor Ir Ts Dr Zainuddin Manan.  The chair of COPE-BEST 2023 sees public-private partnership through co-innovation as the means to build resilience and stimulate industrial growth. He added that, "the critical need for a community of practice to synergise best practices with co-innovations among stakeholders of the energy industry is our call-to-action to establish COPE-BEST as a hub for the energy industry to embrace co-innovation within ASEAN and beyond".
Themed Race to Net Zero, COPE-BEST 2023 was organised from 2 to 4 October 2023 in conjunction with the International Greentech & Eco Products Exhibition & Conference Malaysia (IGEM). It was attended by over 1000 participants from 25 countries, including from Asia, Europe, Africa, Australia, and, as far west as the Americas, including Mexico and Brazil. This makes COPE-BEST one of ASEAN's biggest energy conventions.  With 75% participants comprising industrialists and policymakers, and the rest from academia, COPE-BEST and ENERGISE provide a platform for the energy sustainability community of practice to exchange ideas, experiences and insights, explore partnership, share best practices, and innovation and discuss business prospects. 
Partnership for The Net Zero Goals
Prof Zain Manan attributed the overwhelming response to COPE-BEST 2023 to partnership for the net zero goals.  He shared an IEA scenario whereby a low international co-operation is more likely to veer the world way off its 2050 net zero target by at least 40 years, all the way to 2090!
COPE-BEST 2023 was organised by a consortium of strategic partners led by the UTM spinoff company Optimal Systems Engineering (OPTIMISE) in collaboration with Universiti Teknologi Malaysia (UTM), Malaysian Green Technology and Climate Change Corporation (MGTC), Astroenergy, Solar Energy Research Institute (SERI) of Universiti Kebangsaan Malaysia (UKM), Universiti Teknologi Petronas (UTP), Malaysian Association of Energy Services Companies (MAESCO), Malaysia Sustainable University Campus Network (MySUN), Malaysian Association of Registered Electrical Energy Managers (MAREEM) and  Centre for Indonesia Malaysia Thailand Growth Triangle.  A total of 35 organisations from ASEAN and beyond, representing policymakers, industries, universities and civil society contributed as speakers, panelists, session chairs and co-chairs.
Promoting the National Agenda
"Decarbonization of the energy sector is among the important levers in Malaysia's journey to achieve net zero GHG emissions, earliest by 2050" says Dato' Mohammad Razif bin Haji Abdul Mubin, the Deputy Secretary General of the Ministry of Natural Resources, Environment and Climate Change (NRECC) at the COPE-BEST opening.
According to him, the efforts undertaken by the government to achieve its climate goals include:  1. Accelerating the deployment of renewable power installed capacity to 70% by 2050,  2. Gradual reduction of coal generation capacity, and eventual phasing out coal-fired generation, 3. Integration of technologies and digitalisation toward a more flexible and smarter grid, 4. Prioritizing and institutionalizing energy efficiency practices through the implementation of the National Energy Efficiency Action Plan (NEEAP), and the soon to be tabled Energy Efficiency and Conservation bill, and 5. Exploring opportunities for interconnections and cross border power trade under the Asian Power Grid (APG) program.
Dato' Mohammad Razif added that, "the low carbon energy transition measures is set to reduce the power sector carbon intensity while contributing towards our NDC target under the Paris Agreement"
Advancing The 10 Shifts to Net Zero Worldwide
At the closing of COPE-BEST 2023, Professor Ir Ts Sharifah Rafidah Datu' Wan Alwi, the general co-chair of COPE-BEST 2023 presented the 10 Shifts to Net Zero as a way forward for the local and global stakeholders to consider.  The actionable shifts was summarized from the six thematic sessions in the three days COPE-BEST virtual forum. 
The 10 Shifts, which are in line with Malaysia's priorities, are structured and clustered under four GHG (Greenhouse Gas) Emissions Management Hierarchy of Strategies (GEMS) (See Figure 1).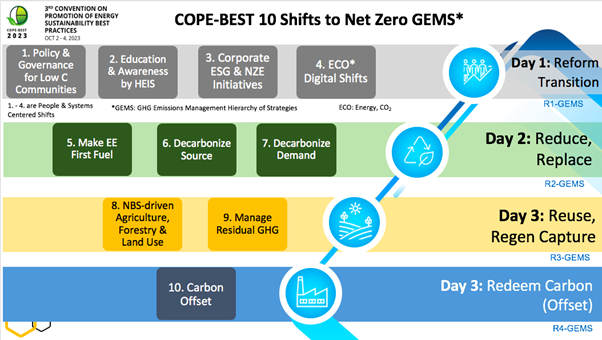 Arranged from the highest priority at the top, to the lowest one at the bottom, the GEMS consists of 4R strategic actions to (1) Reform Transition (2) Reduce & Replace (3) Reuse, Regenerate and Capture (4) Redeem Carbon (Offset). 
At the top and the largest segment of the flipped hierarchy is priority #1 of the GEMS strategic action, which is to reform transition.  Day 1 of COPE-BEST 2023 covered GEMS Level 1 strategies comprising 4 people-centred net zero shifts that are designed to be inclusive, accessible and affordable to everyone.  Four action shifts at this level are directed at reforming culture is societies' transition toward Net Zero.  The actions shall be driven by digital technology, heightened public awareness through education, good governance, synergistic and sustainable policies and regulations, compelling market instruments and attractive incentives.
Day 2 of COPE-BEST was focused on GEMS Level 2 strategies comprising technology-driven actions mainly through energy decarbonisation.  Hosted by UKM-SERI, the session prioritises on making energy-efficiency the first fuel, followed by the use of clean energy to decarbonise energy supply and energy demand.
Session 5 on Day 3 of COPE-BEST 2023 was hosted by the UTM Centre for Environmental Sustainability and Water Security (IPASA).  The session emphasized GEMS Level 3 actions on building climate resilience through adaptation and mitigation action shifts that include proper AFOLU management, deployment of Nature-Based solutions (NbS) and planning for climate-resilient water and energy systems. 
COPE-BEST 2023 concluded with a highly engaging Session 6 that was hosted by Universiti Teknologi Petronas.  The session delved into the carbon market as a GEMS Level 4 actions for both climate adaptation and mitigation.
This article is published on October 10, 2023 by Optimal System Engineering